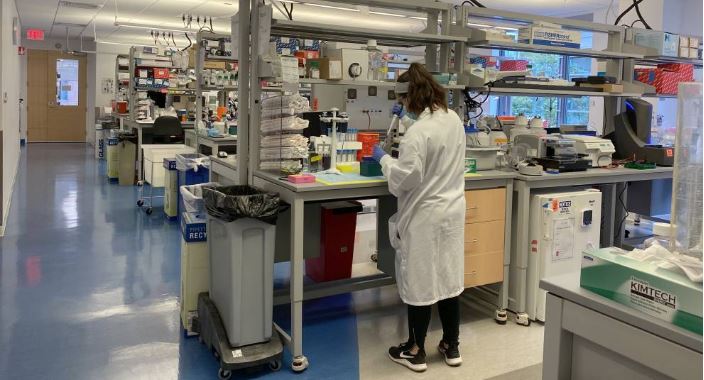 By Liz Neisloss | WGBH | July 20, 2020
Downtown Boston's office buildings loom over urban canyons, now echoing with the occasional complaint of a seagull. It's the third phase of reopening in the state — which allows offices to fill to 50 percent capacity — and these buildings are mostly empty because their usual occupants are staying away.
"I park underneath the Prudential Complex. It's the second largest garage north of New York City. It's a ghost town," said Wil Catlin, managing director of Boston Realty Advisors.
Catlin, who heads the company's downtown office leasing team, estimated that the majority of workers in Boston's "urban core" — 82 million square feet of office space — haven't returned.
"On a good day," he said, his own Back Bay office is "maybe 18 percent" full.
Catlin said he thinks many workers are deterred by fear of coronavirus exposure during the commute.
"People might feel safe in the office at the Prudential Complex, but they don't feel safe getting to the office. So that usually is the part that creates the most amount of anxiety for the commuter," Catlin said. "They might be commuting on the commuter rail. They might be commuting on the subway. They might be commuting on a bus. That's the fear."
And once at the office building, there's no more squeezing in the elevator like in the old days. Catlin described the process for a typical large downtown building.
"So if there's four people to an elevator, each person has to face the wall," he said. "It is a cumbersome amount of time just to get in the elevator and then just to get upstairs."
But what if work can't be done from the kitchen table? The greater Boston area has many scientists — what companies call "building-dependent workers" — who have had to return to their labs, for example. But even there, routines have changed.
Mandatory mask-wearing is just the start of the changes at Agios Pharmaceuticals in Cambridge. Inside the lobby, a security guard with a clipboard runs visitors through a brief health questionnaire to ask about any recent rides on public transport or exposure to anyone with COVID-19. Employees can use an app to self-report when they come in. All entrants then lean into a stand for a quick temperature check and a pump of disinfectant for their hands. Once through those steps, it's one person at a time in their lobby elevators.
Agios develops medicines to treat cancer and rare diseases, and the majority of their employees are based in Cambridge, where lab scientists represent just over 10 percent of the workforce.
"We're running experiments in support of the discovery of those medicines. And so in order to run those experiments, we need to be in the building. And those are really a critical part at the core of what we do as a company," said Agios Chief People Officer Melissa Mclaughlin.
Before entering the lab, as always, rubber gloves go on, along with lab coats and goggles. Since masks are now required, the goggles are now anti-fog. But lab scientists are used to protective gear and precautions. The most dramatic change here is in how much time they can spend in the lab.
On a recent day, Bo Wang sat alone at the lab bench in what's known as the "wet lab." Wang is researching potential therapeutics for leukemia. He can now only work a half day at a time and leaves by noon so there's no contact with the next shift. Wang says he feels safe at work, but he wishes he could stay longer.
"It limits the work we can do, but also I miss seeing the other people, seeing my friends and colleagues. I'm only seeing half of the people, unfortunately. So that's probably hard, hard for our communication and science exchange," Wang said.
In an adjacent cell culture lab, there are multiple stations, but researcher Gabrielle McDonald is solo. She's studying the activity of genes as part of her cancer research. To an outsider, it appears to be work suited for one, but employees here describe research — which requires collaboration — as a "team sport."
"It's very different to have just me by myself or me and one other person. So, it's really quiet. It's hard to get used to. I kind of miss having other people around," McDonald said.
As soon as they finish their allotted shifts, these scientists have to leave the office and continue work from home. Collaboration has shifted online.
"If you're coming in to run an experiment in the lab, you come in and you run the experiment. You may write up that at home, you may do meetings when you get home to talk about the experiments. So really, what needs to happen at the building should happen," McLaughlin said.
Outside of these specialized labs, the Agios offices are mostly empty. If employees can do their work from home, it's still the preferred approach.
Dave Madson, director of workplace for design firm CBT, is familiar with the challenge of getting employees back to the office during a pandemic.
"For those that have started to go back, it is very slow and deliberate," Madson said, "It really is quite a sparse and slow return."
And until social distancing is no longer required, most companies won't be able to fit more than 50 or 60 percent of staff in the office at a time.
"The idea of every person on a staff coming in at the same time until there's a vaccine — it's probably not going to happen for nearly every company. I think that would be quite difficult to achieve with the current guidelines and rules in place," Madson said.
Madson looks at floor plans to see what measures are needed to create "a safe environment," he said. Not surprisingly, this includes creating signage, estimating room capacities and knowing where sanitation stations are needed.
"One of the most onerous parts of this is really air filtration and fresh air ventilation that's in many of these high-rises. That isn't something where they can simply just turn up the fans or open the windows," Madson said.
For now, it seems, whatever the work, there'll be no gathering at the water cooler for office gossip. In addition to the physical changes at offices, Madson said, communication with staff and putting in place COVID-era rules are essential.
"There's a lot of education that needs to happen," Madson said, "to make sure everybody is on the same page and what you can expect when you do come back to the office."
The return to the office, he said, is "a sort of psychological experience" that workers need to prepare for.