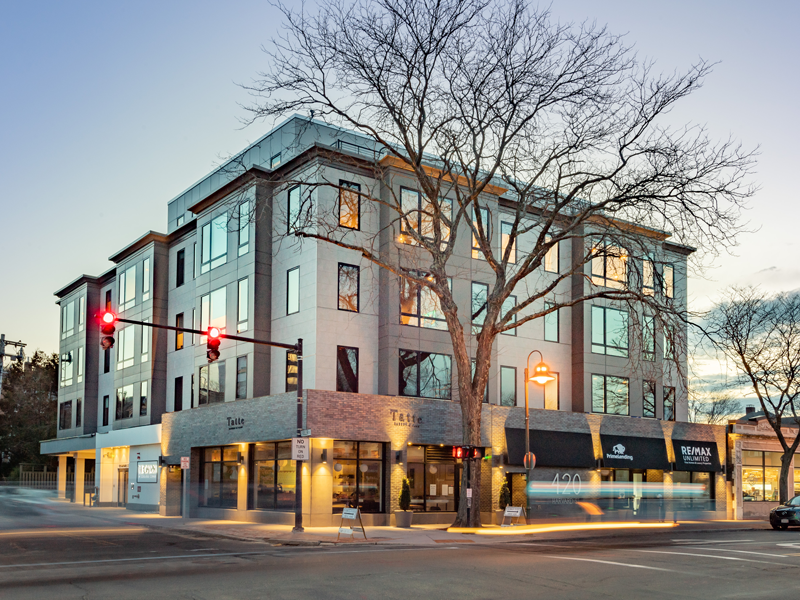 AURA Reaps $23.9M for Brookline Rentals; Boston Realty Advisors Brokers Luxury Deal
May 11, 2021 — By Joe Clements
BROOKLINE — Seemed like a good idea from inception, and developer AURA Property's vision five years ago has been validated via its sale of a Coolidge Corner luxury mixed-use building to another homegrown group for an impressive $23.9 million through exclusive agent Boston Realty Advisors. The project has 25 apartments mostly in a five-story building with a three-unit block of fully occupied ground-floor retail along with the upscale housing which has fared well in the face of a lingering pandemic which apparently has had little negative influence on 420 Harvard St.'s popularity.
"It was a very, very competitive process," BRA Capital Markets member Kevin Benzinger recounts of the exclusive assignment which had founding principal Jason S. Weissman leading the charge joined by Partner Nicholas M. Herz and Associate Director Andrew B. Herald.
BRA's campaign yielded over 100 confidentiality agreement requests manifesting dozens of tours and culminating in a spirited stretch run where local and regional investors were reportedly pitted against domestic institutional capital and players hailing from Europe and throughout the Pacific Rim.
"A lot of eyes were on this one," Benzinger confirms in declining to identify the winning bidder or multiple also-rans said to have been close on the heels of victor 420 Harvard FMS LLC, its manager identified in Middlesex South Registry of Deeds and state corporate filings as Hamid Shirkhan, the president of Fluid Management Solutions of Billerica.
Market watchers tracking the trade maintain it is the back end of a 1031 Exchange following January's trade of a surplus FMS industrial property in Watertown at 580 Pleasant St. dispatched to Griffith Properties and DRA Advisors, a $21.5 million sale previously unveiled by Real Reporter in January. "Right," one source replies when acknowledging the 1031 link to each sale.
DBA 420 Harvard Street Associates, AURA Properties is led by Victor Sheen, registry records show. Benzinger praises BRA's client for delivering a product using best-in-class design and materials at a "killer" location that has global recognition. "Brookline's name carries far," relays Benzinger, his firm active in the metro Boston multifamily scene familiar with the international allure of Beacon Hill, Harvard Square and Newbury Street, and he explains Brookline has similarly widespread appeal as a residential address.
If so, Coolidge Corner would seem to be the community's centerpiece, and Benzinger says it was key to delivering over $800,000 each for the housing component, to him a record price for Boston rentals even though there is a 20 percent affordability requirement at 420 Harvard St. as mandated by the special state statute which empowered the developer to circumvent local zoning in the name of promoting affordable housing, that well-known legislation commonly known as Chapter 40B.
Even with that as a strong bargaining chip, AURA had to endure a challenging approval process where nearby residents and town officials concerned over scale ultimately got the plan down from 36 rentals to the 25, of which 23 are in the main building comprising 42,000 sf and another two are an adaptive re-use of 49 Coolidge St. Its 25 apartments range from studios to three-bedroom layouts and The Calvin, as it is branded, also features underground parking for two dozen vehicles and an open-space patio component welcomed in the thickly settled neighborhood.
Benzinger also credits AURA for creating an assemblage that appeared impervious to the Covid-19 calamity, its resilience seen as a combination of urban Boston's fundamentally strong multifamily sector and being an opportunity totally finished and minus trepidations investors might have for permitted properties at a time when construction costs are rising capriciously and copiously. "Having the construction completed was a major reason for the exceptional response," he says.
The Calvin also drew rave reviews for its "thoughtful" design as conceived by architect EMBARC Studio deemed functionally and fashionably astute through elements including bicycle storage, a stocked "amenity center' and the functional ground floor retail anchored by acclaimed baker and cafe Tatte.
The market-rate apartments are reportedly performing admirably with rents pegged in the $5-per-sf realm ​highlighted by two penthouse units and all apartments featuring quartz countertops, oversized windows providing abundant natural light and first-rate appliances as well as central HVAC and in-unit washers and dryers.
Besides the hefty apartment revenue, cash-flowing retail provides The Calvin's new steward additional resources, notes Benzinger, and financing was available by assuming a mortgage AURA had secured through the Massachusetts Housing Partnership. The loan's remaining principal at the time of closing stood at $14.5 million, registry records indicate.
Read article on The Real Reporter.