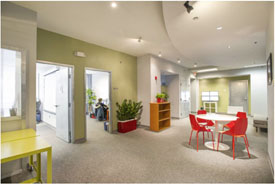 Spec office construction is coming to Boston In 2015 – for who?  Well, not for the smaller companies, their footprint would be far smaller than the new construction Class A can accommodate.  The recent 4 quarters has seen a tremendous migration to the Financial District from the Seaport and East Cambridge for the value oriented office tenant.  Rent within the Class B market still fall within the mid to upper $30's per square foot.
Banker & Tradesman offers some perspective on the market shift in downtown Boston, noting "the office market continues to recover from the 2008 downturn because of an expanding tech sector and relocations of companies from Cambridge and the suburbs. Recent acquisitions of trophy office towers in Boston and Cambridge reflect the continuing interest of foreign investors seeking higher yields than government bonds, panelists said. In 2015, office investment sales are expected to slow, but overseas investors will continue to put money to work in Greater Boston, said Jessica Hughes, a managing director for JLL."
You can read the B&T report, here, or check out our analysis of Boston Spec Suites.