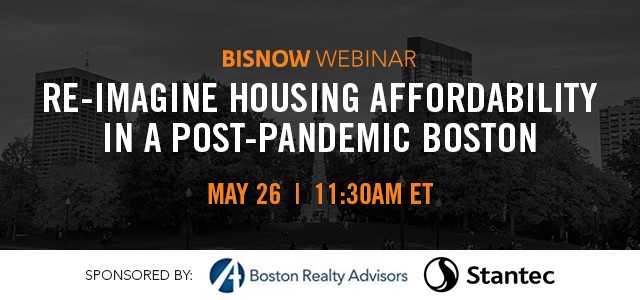 Like many cities today, Boston has a shortage of affordable housing. Along with that, the Boston population is expanding significantly faster than housing can be built. What will this mean Bostantonians long term?
Solutions for limited space, reducing project expenses and expediting the preconstruction process all come down to the initial design phase.
Design leaders are approaching policy, incorporating technology to expedite permitting and utilizing space to build smaller units at volume more than every.
Join Bisnow May 26 for a deep dive into how leaders and designers plan to usher in a new and more affordable era through design in Boston CRE.
There will be plenty of time for questions.
If you can't attend live, register. We will be sending the recording to all registrants.
During this webinar we will discuss:
–What innovative design solutions can reduce housing expenses?
–How do high-density housing models present new opportunities for housing expenses in Boston today?
–How changes in design policy can facilitate new support systems in the inner city?
–What are new ways to approach the limitations of land and build space in downtown Boston?
–How technology is being used to change the design process and eliminate delays that increase development cost?
Register HERE.