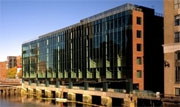 Life really is good in the Fort Point and Seaport District! The influx of amenities and direct access to transportation had led the area to become a destination location for many office tenants. Vacancy rates have decreased and rents have risen, but employers along with employees love the vibrant atmosphere the area has to offer.
An editorial on the Boston Business Journal covering the relocation of the apparel company, Life is good, notes that the company is "taking 22,000 square feet in a renovated industrial building at 51 Melcher St. – space for about 70 workers."
The BBJ coverage also expands upon the company's expectations of Fort Point neighborhood.