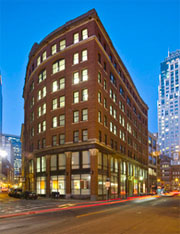 The price per square foot for office space in Boston is headed up in all sub markets and in all building classes.  Last year many areas rebounded while others continued to lag behind. 2013 marks the change; with demand strong, rents will continue to rise.
A Boston Business Journal report on the 2013 market growth, referencing a Jones Lang LaSalle's Spring Skyline Review, notes, "Boston is seeing favorable trends in demographics and exposure to growth sectors…The Hub's downtown submarkets appear to be entering a new chapter in each of their respective history books with the Financial District seeing results in filling up the low-rise portions of towers, as well as a transformation into a true work-play-live submarket."
For more information perspective on the national office market, read the BBJ's Supply and demand to tip scales in 2013.
Related Commercial Real Estate Listings
Current office space available in Boston