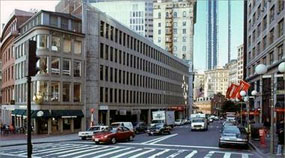 Will the architecture in the 1960's era of Government Center move to the wrecking ball?  Yes, it seems that the Government Center Garage will be replaced with a new mixed use development.
According to Banker and Tradesman, "the Government Center proposal includes six buildings varying in height from 600 to 60 feet. Once the proposed project is complete, the garage, sitting on approximately 4.8 acres, would be transformed into a mix of 771 apartments and condos, 1.3 million square feet of office space, 82,500 square feet of retail and restaurant space and 204 hotel rooms."
Office rents are up and supply is down; residential housing is commanding strong numbers on both the sale and lease fronts. Now is the time.
You can view the full B&T article, here
Related Commercial Listings
Government Center Office Space