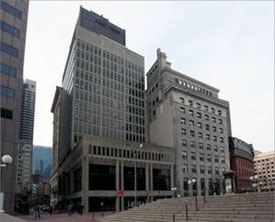 Tenants that are in the market flock to value; over the last four quarters that value play has been the Financial District.  As those vacancies have been eroded, rents have pushed upward.  What will this mean tomorrow and beyond?  Those tenants that signed leases three plus years ago in the now tight and expensive Seaport Market will seek value options elsewhere if they feel that low $40's rents for Class B is too much to burden in the Seaport.  

Markets that have benefited and that will continue to do so are Mid Town and North Station.
A post on the Boston Business Journal notes that Back Bay is lagging behind its neighboring submarkets:
"'the only market where there has been an increase in vacancies is in the Back Bay…there continues to be uncertainly in the city's most expensive office market with State Street Corp. downsizing considerably, [Debra Gould, a broker at Cushman & Wakefield] said. "They also have 400,000 square feet in Copley and it's still not clear what will happen to that space … and obviously they are vacating the low-rise portion of the John Hancock Tower and there are price concerns … activity in the Back Bay will be slow.'"
You can read the full BBJ article, here.
Related Listings
Available Office Space in Boston Submarkets