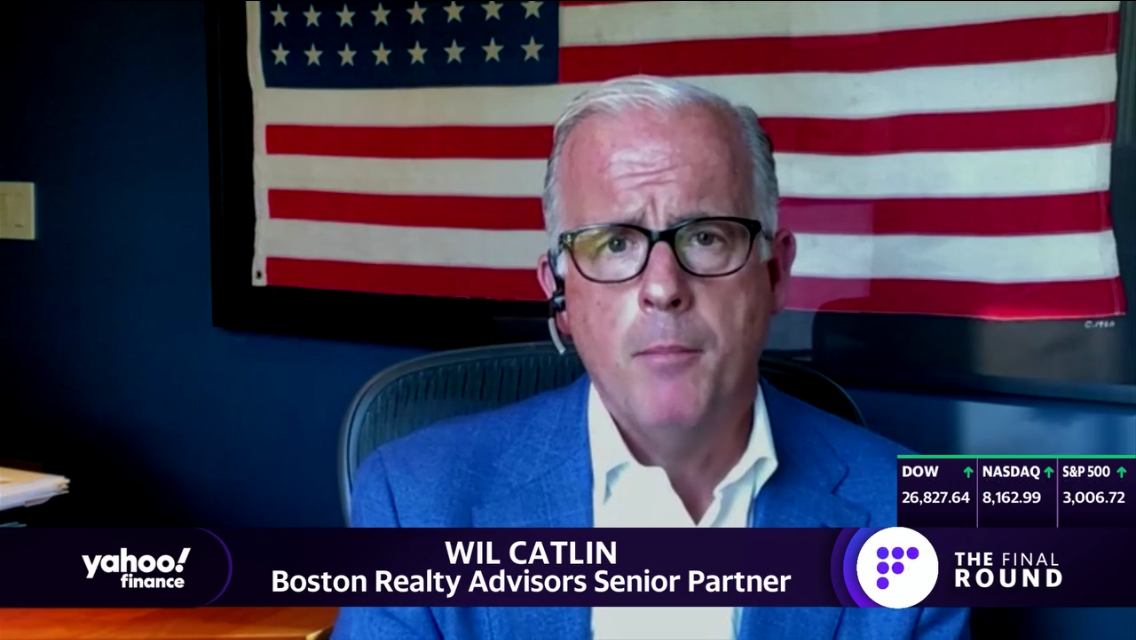 Catlin oversees the firm's Commercial Leasing Division and says there is still "significant demand" for co-working office space in Boston. "I don't see the market going anywhere. Matter of fact, I think it's going to continue to strengthen."
By Jen Rogers | Yahoo Finance October 22, 2019
For all the negative headlines about a cratering valuation and cash crunch, WeWork's co-working business is real. "I think the core business is a great business," William Catlin, Partner and Managing Principal of Boston Realty Advisors, told The Final Round on Yahoo Finance.
Catlin oversees the firm's Commercial Leasing Division and says there is still "significant demand" for co-working office space in Boston. "I don't see the market going anywhere. Matter of fact, I think it's going to continue to strengthen. It definitely will not strengthen at the rate that WeWork was absorbing space for. But there's a lot of other players wishing to take a role in this space."
On Tuesday, news emerged that WeWork, which was slated to become one of the year's hottest IPOs, will be bailed out by SoftBank at deal valuing the co-working space at less than $8 billion (a long way from the $47 billion WeWork said it was worth in January).
The issue for competitors hoping to take share from a wounded WeWork is that landlords aren't so eager to work with new players. That oddly might just help the incumbent — WeWork.
"I think there's a huge barrier to entry now, because we're working on a number of different transactions on different sides of these transactions where everybody has been reading the WeWork debacle and nobody wants to talk to anybody in flexible workspace, in regional HQ space or anything. So anybody in this space is fighting a bit of an uphill battle, because what landlords are looking for now is a colossal amount of security deposit because of the WeWork effect."
He says WeWork may have been willing to "overpay and or might do a longer-term lease," but with the one time juggernaut stepping off the gas, the dynamics are changing. The so-called WeWork effect should eventually lead to a right-sizing of deals, according to Catlin.
"The market might throttle back to where reality is … and as a result of that, transactions will start to ignite again."