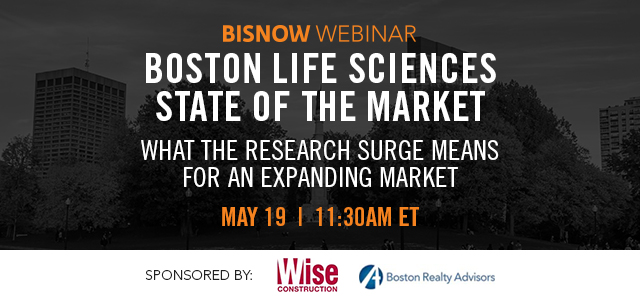 Life Sciences may be the least disrupted sector in CRE. With dozens of companies working on treatments, vaccines and research to combat the current health crisis, the life sciences have seen a surge in activity — and funding. As uncertainty grows around the demand for office space, landlords may increasingly look to life sciences as a solution to fill existing space.
Join Bisnow May 19 as we sit down with industry leaders Yanni Tsipis, of WS Development, Duncan Gilkey from the Davis Cos. and Bill Olsen, director of construction at Wise Construction to dive deep into the current Boston life sciences market landscape, highlight recent changes and discuss what aspects of the market will grow the most as a result of the recent surge in research demand.
During this webinar we will discuss:
— What will increasing investment in research mean for Boston lab space?
— How are owners and developers working to meet the new demand?
— How will lab spaces have to adjust to social distancing measures?
— Where is new lab space being built and how is construction progressing?
— What are the largest biotech and pharma companies planning in Boston?
Register HERE.