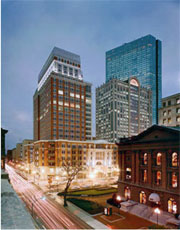 The cost of clean air is very expensive, but totally worth it.
According to an article on Banker & Tradesman, "The repairs could climb from $800,000 to $6 million…The MBTA commissioned Westwood-based Hatch Mott MacDonald to study the decades-old ventilation system as part of a $32-million station renovation project being led by developer Boston Properties. For years, diesel exhaust from commuter rail locomotives has lingered on station platforms and filtered up to the concourse…MassDOT spokesman Jason Johnson said the MBTA will adopt the report's recommendation of creating a modeling assessment that would include detailed engineering. The model is expected to be completed by the end of winter."
You can read additional information on the air quality assessment of Back Bay station on the B&T website.
Related Office Space Listings
Back Back Office Space