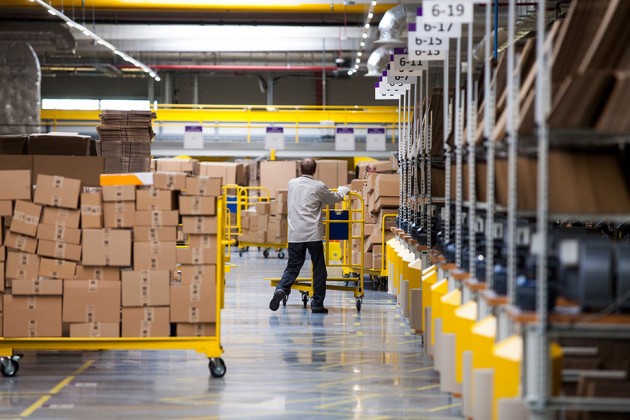 Amazon.com is again hiring in Massachusetts.
The Seattle-based e-commerce giant (Nasdaq: AMZN), already one of the largest employers in Massachusetts, is expecting to add more than 650 full-time and part-time jobs in the area, according to spokesperson Stephanie Cortez. She added that Amazon has hired for 15,500 full-time and part-time jobs in Massachusetts.
The majority of the new positions will be based in Amazon's fulfillment center in Stoughton, according to Cortez. Amazon also has fulfillment centers in Holyoke, Everett and Fall River.
"I think that's just an area that we have noticed that we're able to meet our customer demand and can really focus in on serving in the greater Boston area within Massachusetts," Cortez, a New York City-based public relations manager with Amazon, said about Stoughton.
Cortez added that the new roles are part of Amazon's operations network and its delivery partners, so they are not corporate roles. Pay starts at $15.25 per hour with opportunity for bonuses and career advancement.
The local hires are part of an international hiring spree for more than 100,000 jobs throughout the U.S. and Canada in Amazon's fulfillment and logistics network. The additional recruiting effort is not related to competitor Walmart Inc. (NYSE: WMT) launching its own membership program later this week, according to Cortez. Instead, it has to do with the upcoming holiday season.
"We're really looking to gear up for the holiday season and visitation for high customer demand," Cortez said.
The 650 new positions are separate from the 1,800 new Massachusetts roles that Amazon announced in April, according to Cortez. Cortez did not provide a breakdown of full-time versus part-time roles, but added that hiring has kicked off on Monday.
Separately, Boston planning officials last week recommended against an Amazon warehouse in the neighborhood of South Boston, citing planning guidelines for the stretch between the Broadway and Andrew Red Line MBTA stations that would not fit with the proposed warehouse renovation. Cortez declined to comment on the move.